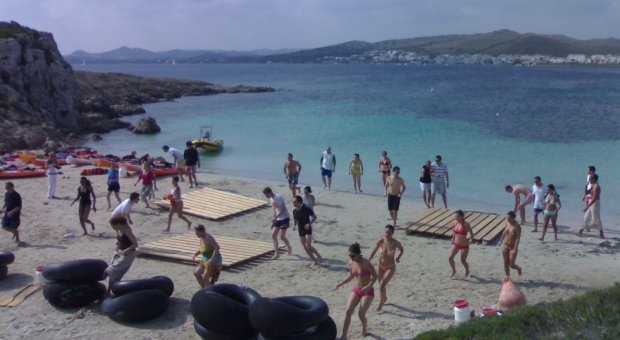 Esta actividad es ideal para grupos, escolares y empresas ya que fomenta el trabajo en equipo y el compañerismo.

Para realizar la actividad de balsas de madera, primero se hacen varios equipos, a cada equipo se le entrega una balsa de madera totalmente desmontada con todo el material necesario para montarla, el objetivo es montarla en el mínimo tiempo posible, ponerla en el mar, ir remando hasta un punto previamente marcado, regresar y desmontarla. El equipo que primero lo consiga, gana.

Esta actividad se realiza en una playa virgen de la bahía de Fornells y para llegar a ella usamos los kayaks como medio de transporte.


Actividad recomendada para grupos mínimos de 20 personas.
Activity includes
Kayaks and paddles Life vest All material nedeed to build the wood rafts Soft drinks Instructors Insurance
What do you need to do the activity?
Sports clothes Swimming suit Solar cream Cap Water Camera
Dates and times
Check timetables
Where is the activity done?
Fornells Menorca