Boat trips
3 Available activities
Dia Complert offers you an exclusive boat trip for people that look for a different excursion for enjoy the magnific water of Menorca, visiting cliffs, calas, virgin beaches and doing snorkeling sessions in amazing sets. You will visit incredible places that you'll never forget.

You are guaranteed an unique experience on board a 8 metres speed boat to accommodate 11 people and guided by a skipper from Menorca who knows until the last corner of the island.

This is an activity that allows you enjoy pleasant dips and snorkeling sessions in the marine reserve of Menorca, the place with a huge marine species richness. A boat trip thought for discover the authentic Menorca, that you can enjoy in groups of 11 people maximum or exclusively for you.

Don't forget your water camera!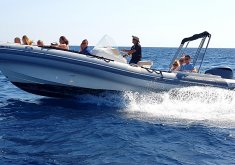 Place: North coast of Menorca
Length: 3 hours
Enjoy an adventure, boat excursion to discover corners of Menorca.
Buy now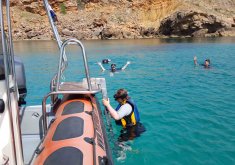 Place: Costa norte de la isla de Menorca
Length: 1,5 hours
Speed boat trip and snorkelling in the marine reserve
Buy now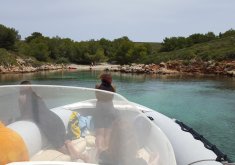 Place: All around Menorca
Length: Depending on the contracted service
A la carte boat trips and services
Buy now