Snorkeling in the marine reserve
1 Available activities
For snorkeling lovers, we have designed amazing excursions in the marine reserve around the north coast of Menorca, a totally virgin area where you can enjoy doing snorkeling in a virgin and wind environment, with transparent waters encircled of cliffs and caves. This area was declared marine reserve in 1995.

Excursions are done aboard 8 meters speed boats for 10 people as maximum.

Don't forget your waterproof camera!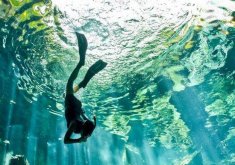 Place: Costa norte de la isla de Menorca
Length: 1,5 hours
Speed boat trip and snorkelling in the marine reserve
Buy now