Special pack for couples, snorkeling with boat in the marine reserve and kayak-caves with snorkeling
North coast of Menorca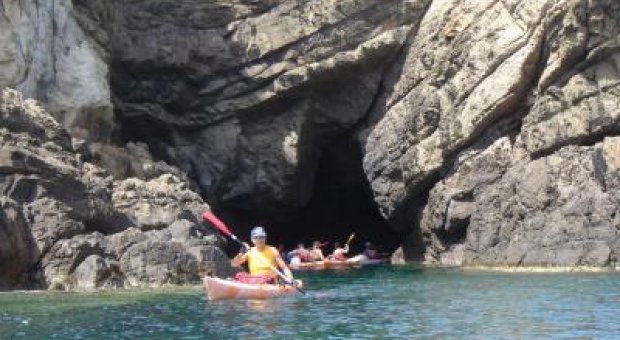 We offer to you the opportunity to discover incredible corners by two means of transport: kayak, where you will drive on yourself, and boat, where you only need to worry about looking up the beauty of the landscape A beautiful souvenir of your travel to Menorca!
Two activities pack for two people.Snorkeling in the marine reserve aboard a speed boat
Leaving from Fornells's harbor, we go aboard an 8 meters
speed boat
to Vell Marí's Cave, to do the first snorkeling session in its inner. Then, we visit Cavalleria's cliffs to to a second
snorkeling session
, have a dip, rest and have a soft drink before come back to the harbor.
Duration: 1,5 hours.
Kayak-caves + snorkeling
Definetly, this is an excusion that will not leave you indifferent. Going into the caves formed in the rock is a unique sensation. This, combined with snorkeling sessions inside them, is a true first-person adventure!
Duration: 3,5 hours.
Excursions can be done in the same day or in different days.
Don't wait more and book your place!
Activity includes
Snorkeling in the marine reserve:
Skeeper/snorkeling instructor
Soft drink
Snorkeling gear
Insurance
Kayaking-caves + snorkeling:
Double or single kayak
Paddle and life vest
Drum for personal objects
Snorkeling gear
Soft drink
Instructor
Insurance
What do you need to do the activity?
Swimming suit
Cap
Solar cream
Camera, waterproof better
Dates and times
Snorkeling in the marine reserve: morning from 10am to 1pm and afternoons from 3,30pm to 6,30pm.

Kayaking-caves + snorkeling: mornings from 10am to 1,30pm and afternoons from 3,30pm to 7pm.
Where is the activity done?
North coast of Menorca