Special pack for couples, kayaking + one hour jet ski + boat trip around north coast beaches (price for 2)
North coast of Menorca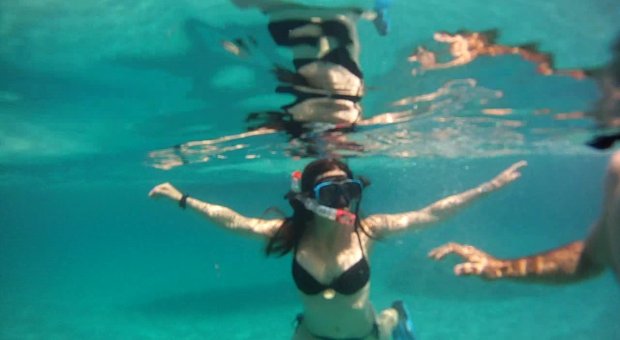 Pack created exclusively for couples that don't like to lose one minute of their holidays and wants to know everything about Menorca. With this triple pack, you experience in the island will by ideal!
Three activities pack for two people Kayak-caves trip + snorkeling
We do a trip leaving from Fornells harbour, visiting La Mola cliffs and the Cave of the Imágenes. Then, we do a snorkeling session inside Cave del Inglés and another one in Islote de Tirant, in the marine reserve of Menorca. On the returning, we stop at the virgin beach of s'Arenelet for get recovered, swim and have a soft drink before to come back.
Duratoin: 3,5 hours.
Jet ski trip
One hour trip starts in our base in Fornells, visiting La Mola cliffs, Punta Pentinat,
Cala Tosqueta
, stop at Es Macar de Sa Llosa for have a soft drink and come back.
Duration: 1 hour
Boat trip around beaches of north coast + snorkeling session in the marine reserve
Trip aboard a speed boat, going around the north coast of Menorca, visiting Cavalleria cliffs, Cala Viola, Sa Nitja, stop in Cavalleria beach for have a dip, Cala Mica, Binimiel·la beach, stop at Cala Pregonda for have a dip and a doft drink and, on the returning, we stop in Illas Bledas (marine reserve) for do a snorkeling session in open sea.
Duration: 3 hours
This is the perfect pack of activities for people looking for practising sport, adrenaline and relaxing, always enjoying of the most virgin coast of Menorca, where you can find a lot of type of fishes during the snorkeling sessions. Also, activities can be done in the same day or in different days.
And if you want to add, change or summit some activity, just tell us and we will offer to you a personalized pack!
Activity includes
Kayaking:
Kayak, paddle and life vest
Snorkelling gear
Drum for personal objects
Soft drink
Instructor
Insurance
Jet ski trip:
Life vest
Instructor
Insurance
Speed boat trip around north coast beaches:
Snorkelling gear,
Soft drinks
Skeeper/snorkeling instructor
Insurance
What do you need to do the activity?
Swimming suit
Solar cream
Cap
Water
Dates and times
Kayaking trip + snorkelling session, daily departures from 10 am until 1,30 pm and from 3,30 pm until 7 pm.

Jet ski trip, daily departures from 10 am until 5 pm.

Boat trip, daily departures from 10 am until 1 pm and from 3,30 pm until 6,30 pm.
Where is the activity done?
North coast of Menorca