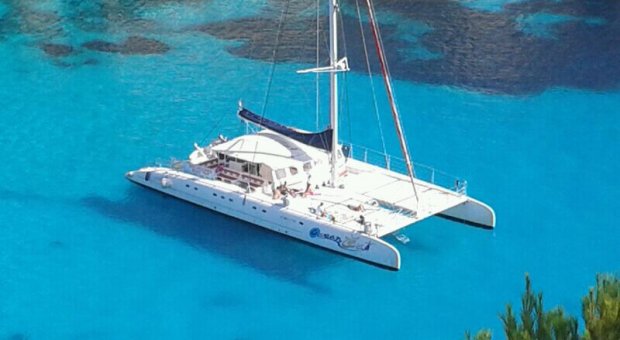 If you are a bustling and active couple, this is the perfect pack for you two. We mix a boat trip around the north and south coast of Menorca and, for ending, a jet ski trip where you are the driver. Do you dare it?
Three activities pack for two people

Excursion boat caves + beach + snorkelling
Adventure type boat excursion, departing from our base in Fornells. Visiting the cliffs of La Mola, the cave of the English, snorkeling session in the cave of Ses Bruixes, Tosqueta beach with a stop for swimming and refreshments and on the way back we visit the beach of Cala Pudent
Duration: 3 hours.
Catamaran trip around south coast of Menorca
One day catamaran excursion departuring from Ciutadella harbor going to Cap d'Artruix, Son Saura beach, stop at Cala d'es Talaier for lunch, Cala Turqueta and Cala Macarella. On the returning we stop at Cala Parejals for have a dip and do a snorkeling session .
Duration aproximately: 6 hours.
Jet ski trip
One hour trip starts in our base in Fornells, visiting La Mola cliffs, Punta Pentinat,
Cala Tosqueta
, stop at Es Macar de Sa Llosa for have a soft drink and come back.
Duration: 1 hour.
During the boat and catamaran trips you can waste your time relaxing and leave magic of the island doing the rest; but the day you do jet ski, be ready to unload your adrenalin!
Don't doubt, if you are looking for know both parts of the island (north and south coasts) and altough you want to add emotion to your adventure in Menorca,, this is the perfect pack for you two. Call us and we can divide the activities in days you prefer and enjoy!
Trips can be done in the same day or in different days.
Activity includes
Speed boat trip:
Soft drink
Snorkelling gear
Insurance
Catamaran trip:
Lunch
Snorkelling gears
Insurance
Jet ski trip:
Life vest
Instructors
Insurance
What do you need to do the activity?
Swimming suit
Solar cream
Cap
Water
Dates and times
Excursion boat caves + beach + snorkelling, daily departures from 10 am until 1 pm and from 3,30 pm until 6,30 pm.

Catamaran trip, daily departures from 11 am until 5 pm.

Jet ski trips, daily departures from 10 am until 5 pm.
Where is the activity done?
North and south coast of Menorca